Fast forwards that can be useful for RPL clubs
We are opening a series of materials devoted to the study of the European transfer market. Today's task is to find high-speed forwards who will come and "tear" our league with the help of scouting services.
All forwards below 185 cm can be divided into 2 types:
athletic attackers who use a powerful body and, thanks to power struggle, gain an advantage over defenders (a vivid example is Farfan);
light attackers, distinguished by their speed of penetration into free zones and dribbling (Kokorin, Chalov, Azmun).
In this study, there was a search for fast forwards who are ready to show class in our league here and now.
Stage 1 – digitizing strengths
Before looking for a treasure, let's decide what we are looking for. What characteristics do the best fast forwards of our championship differ from the gray mass: Azmun, Kokorin and Chalov?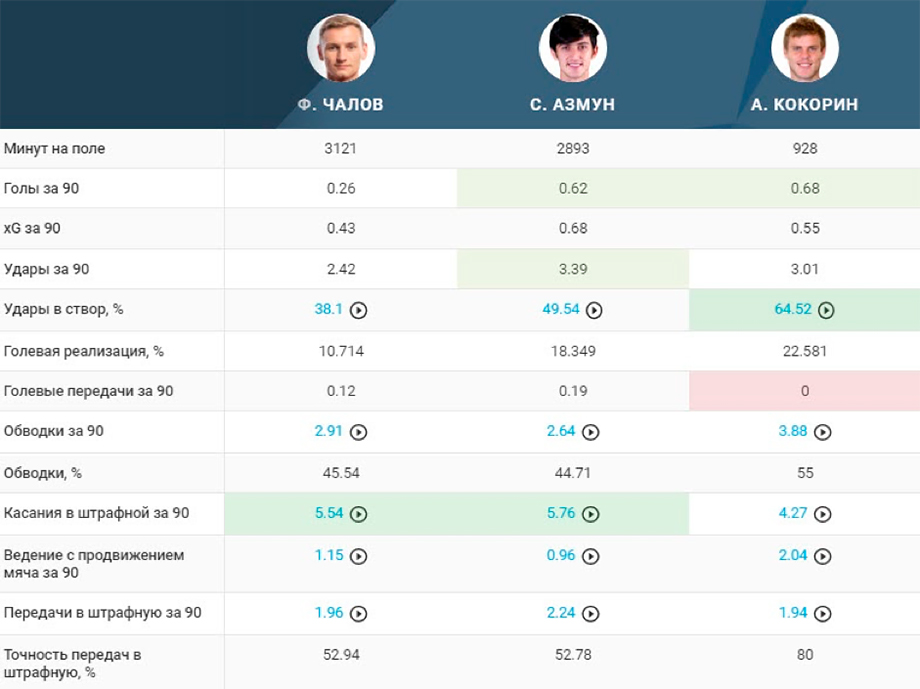 Chalov has received a lot of criticism, but his current level is close to that of the average European forward. Another thing is that last season he burst into adult football so that now everyone thinks that it was "normal Chalov". No, we have witnessed a phenomenal Chalov. He's normal this season.
Defining outstanding characteristics that can help us in the search ("average of the top three players").
xG in 90 min – 0.4
Number of strokes per match – 3
Shots on target – 50% (by the way, this indicator also determines the "decline" in Chalov's game, last season he kept the bar at 50, in this he fell to 38; while the number of strikes decreased by 20%)

Strokes – 3 (with throughput from 48%)
Penalty touches (determine the ability to open) – 5
That is, in fact, all the simplified "digitization of the usefulness" of these players for their teams.
Stage 2 – search and selection of candidates
We start a search for players with borderline indicators; we filter out those who show such statistics in pumping pump championships; those who, like Falcao, will not come to us; watching 20 minutes of episodes of each of the 30 found players; cross out a lot of applicants who did not pass the visual check and … voila, in front of me is a short list of ready-made fast forwards for RPL clubs.
Three players from this list at once represent the Austrian championship.
Marko Raguz (22 years old, Austria / Croatia, LASK)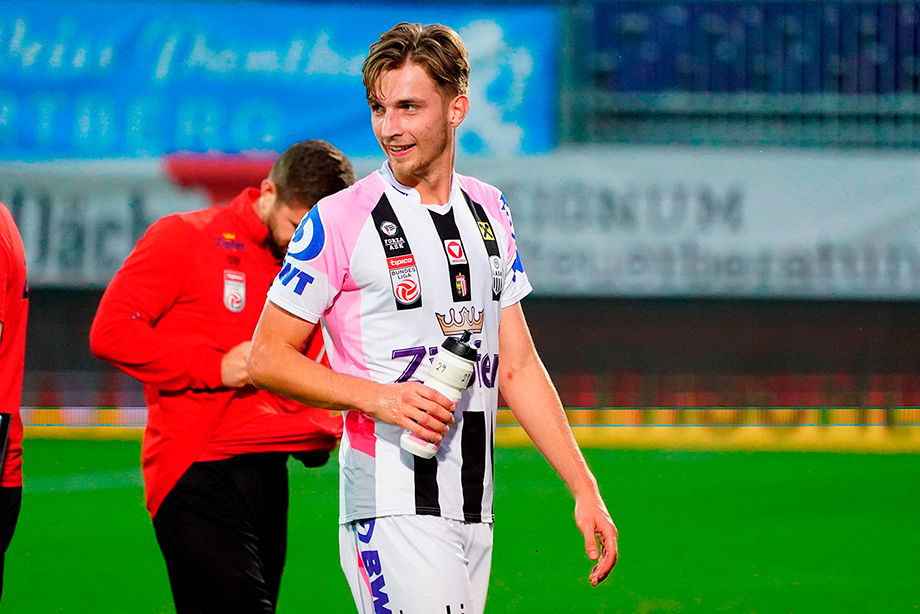 Marco Raguz
Photo: Getty Images
The young player is the joker up the sleeve of the coach of one of the brightest teams this European season. It is very rare for a young substitute to quickly fit into the game. This forward easily collects 4 hits in the box for every 90 minutes of play, and collected 14 goals and 3 assists in 2347 minutes.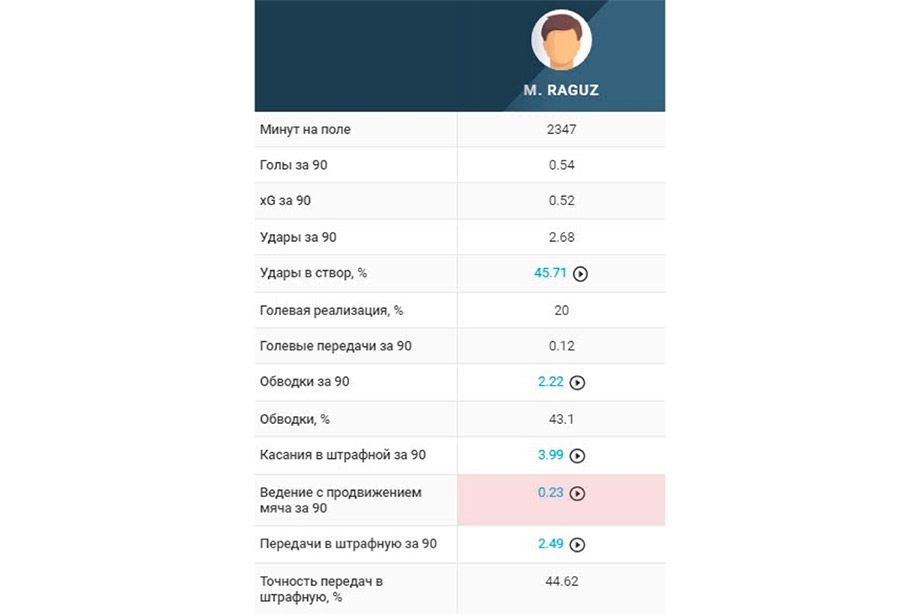 The striker also showed himself well in the Europa League – 5 goals (2 for Sporting and 3 for AZ Alkmaar).
The strongest qualities are openings and a predictable shot on target.
Economy of the transaction
Transfermarkt score: 1.3 million euros.
End of contract: 06/30/2022.
Our rating: 2.5-3 million euros.
After deducting points for an early start of training, LASK hit a dive and lost a series of important matches that put an end to the team's chances for the Champions League. The team will have to say goodbye to the leading players.
RPL clubs that will strengthen: "Dynamo", "Rubin", "Rostov".
Perspective: the main player doing about "10 + 3" on the "goal + pass" system. Not a championship superstar, but a solid, useful player for his team.
Tashiaris Foundas (24 years old, Greece, "Rapid")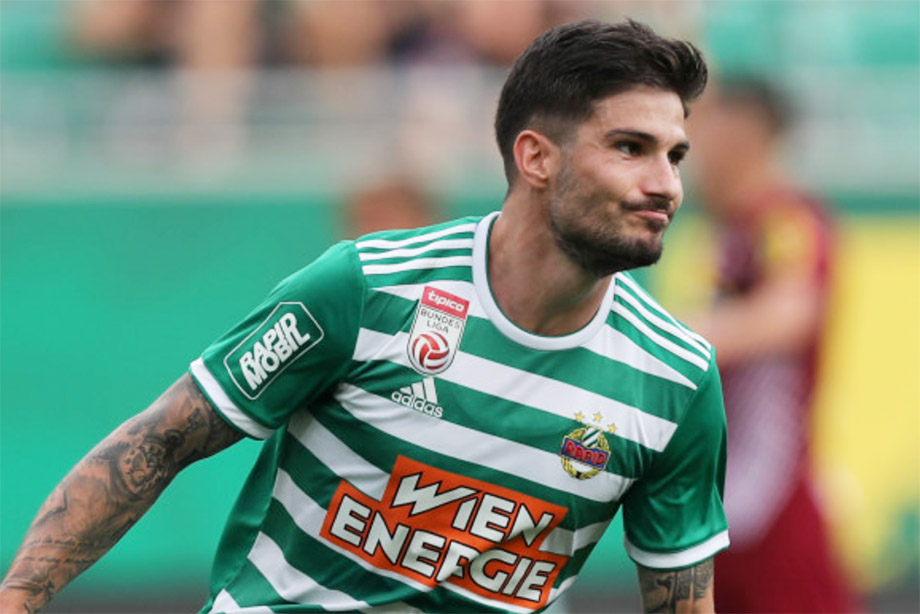 Tashiaris Foundation
Photo: skrapid.at
This dwarf Greek has an impeccable hitting technique, as well as the implementation of 1-on-1 outputs. With a height of 170 cm, it is difficult to count on power wrestling and riding balls, which he more than pays off with the ability to open on the offside line and between the lines, collecting 3.77 per game touches in the penalty area.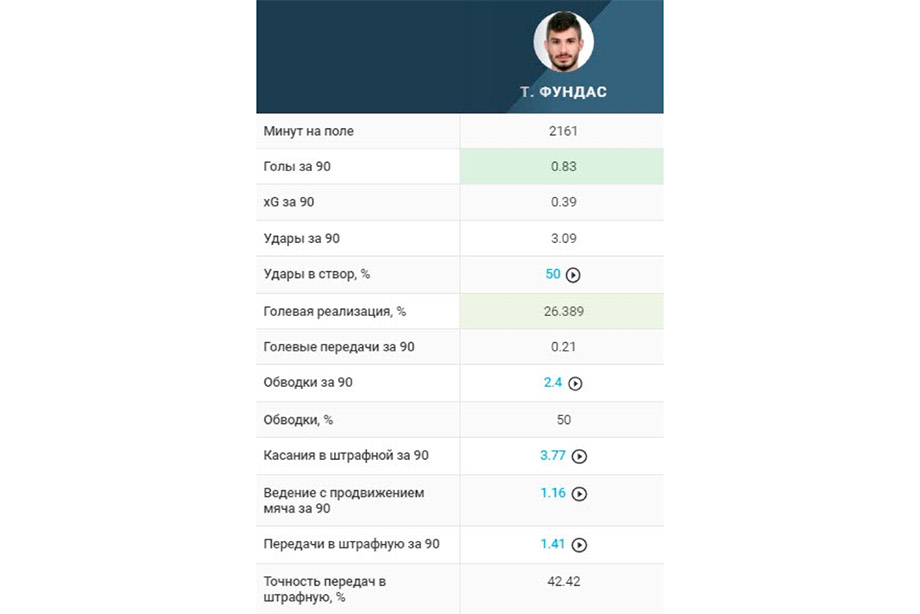 The most similar player in Russia is Magomed-Shapi Suleimanov… Only here the Greek has 50% of shots on target, while Shapi has 36% this season.
Economy of the transaction
Transfermarkt score: 1.6 million euros.

End of contract: 06/30/2022.
Our rating: 2.5-3.5 million euros.
RPL clubs that will strengthen: "Spartak", "Rubin", "Dynamo", "Krasnodar", "Rostov", "Zenith".
Perspective: will take the place of the main striker in those teams whose game is designed for a quick counter-attack. Fits perfectly where there is a tall main forward dropping balls to the ground. Along with Vlašić and Krychowiak, he will become one of the best hitters in the championship.
Sean Weissman (24 years old, Israel, "Wolfsberger")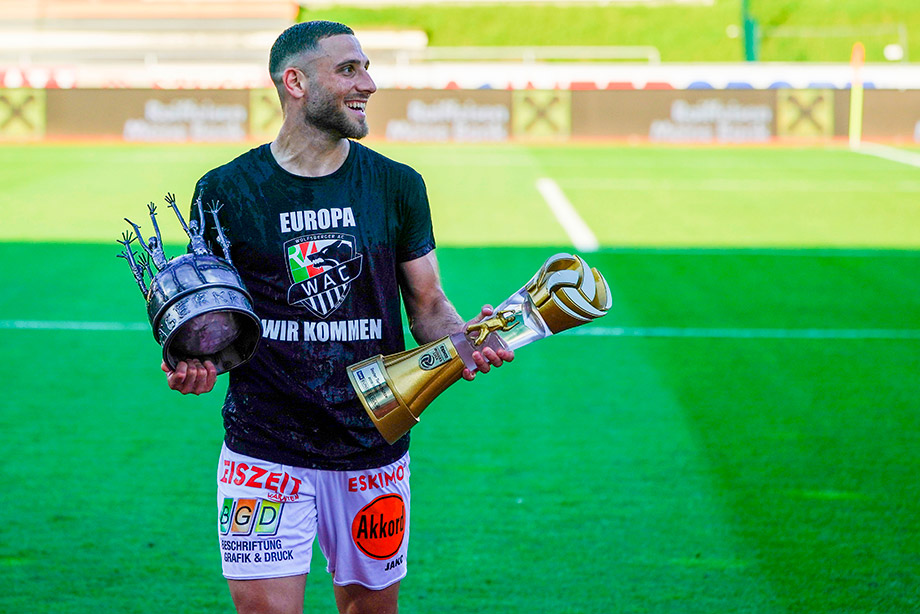 Sean Weissman
Photo: Getty Images
Sean has a phenomenal season for Wolfsberger with 0.91 goals and 0.65 xG per game. And, as Byshovets said, you need to be a complete idiot to believe everything that happens. His performance broke all the radars, and many scouts would have given up, they say, "let's see what he shows in the season."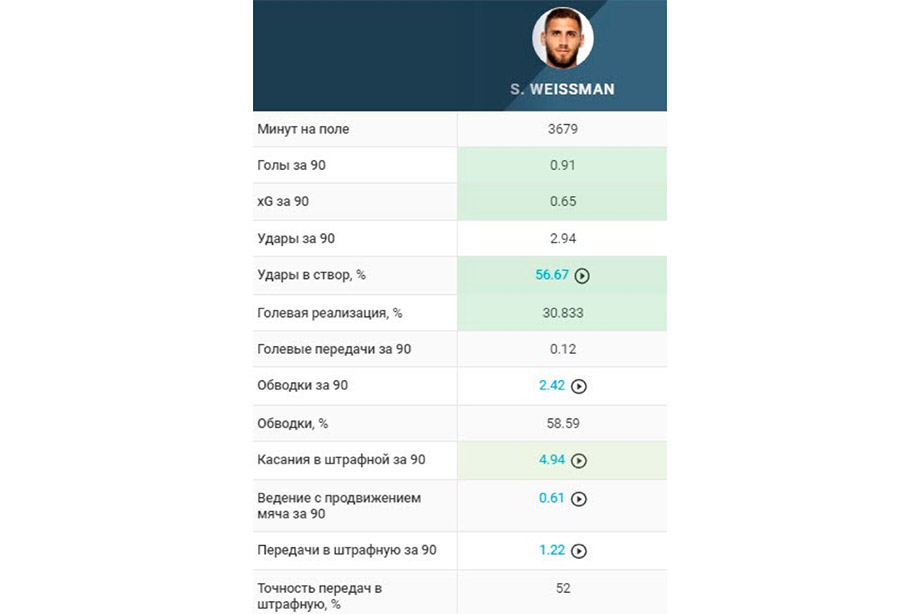 But his statistics shouldn't be confusing. The player a season before in the grassroots "Maccabi" from Haifa gave out 0.51 xG per match. A consistently high hitting accuracy of 55% is also maintained.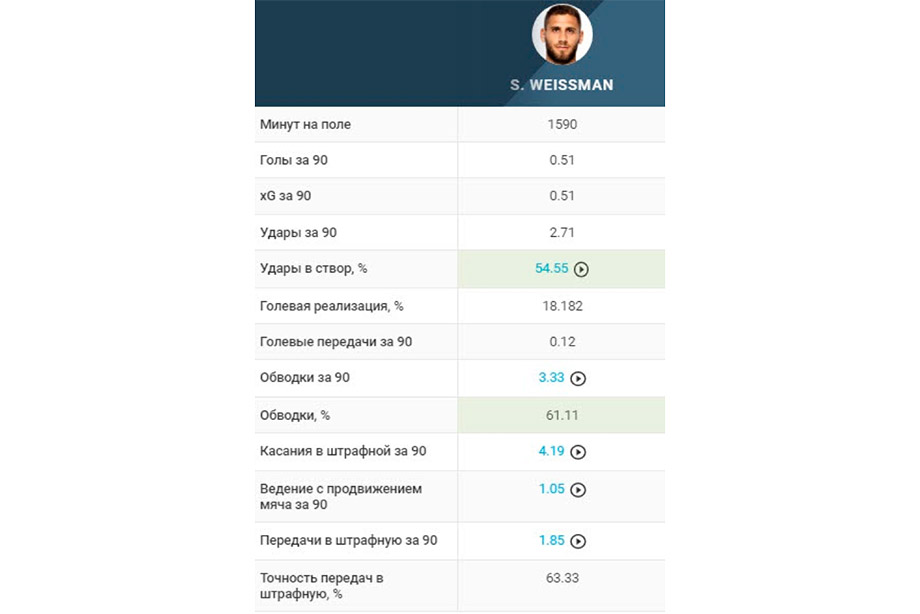 With a very modest height of 174 centimeters, 9 of his 37 goals this season, Weissman scored with a header. It's all to blame for his best skill – playing ahead.
Economy of the transaction
Transfermarkt score: 2.4 million euros.

End of contract: 06/30/2021.

Our rating: 4-5 million euros.
The beauty of this striker is that he only depends on whether the team has a player who knows how to serve standards. He is unpretentious to the purity of the transmissions from the game, he is ready to catch up with the fact that "one meter to the right – one meter to the left" flies.
RPL clubs that will strengthen: "Lokomotiv", "Spartak", "Rubin", "Dynamo", "Krasnodar", "Rostov", "Zenit", "CSKA", "Akhmat". The rest too, but they certainly don't have enough money.
Perspective: the same as in the last 2 years of his career. Play 1 or 2 seasons at xG> 0.4 and go for a promotion.
And here we make a mental sketch. The three "Austrians" performed well as classic second forwards. It was the turn of the characters who have always been invaluable in Russian football.
"Tashers", who pull their team to attack with the ball. The last one in our league was Quincy Promes. Probably the biggest star of our "swamp" of the last five years.
Emmanuel Dennis Bonaventure (Nigeria, 22 years old, "Club Brugge")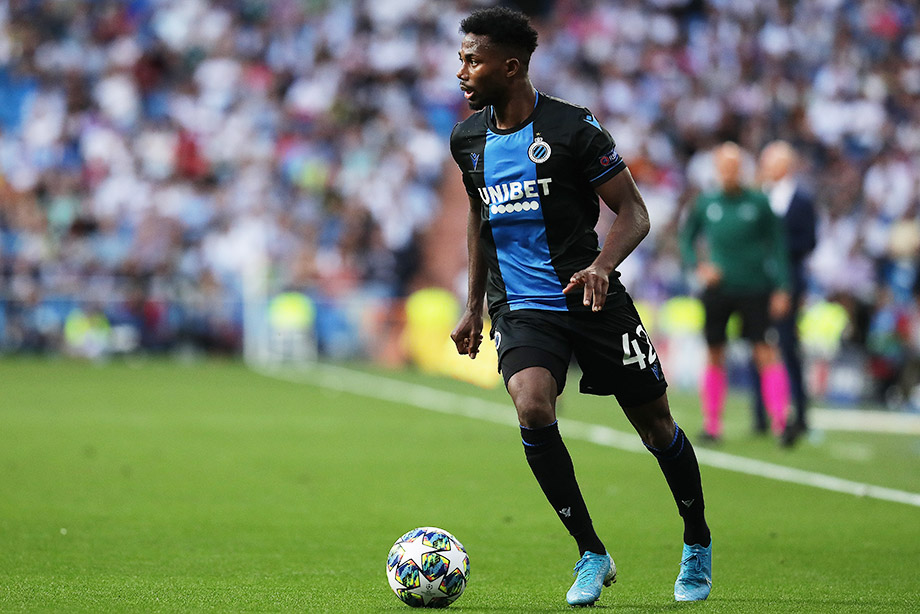 Emmanuelle Dennis Bonaventure
Photo: Getty Images
Dennis flashed very brightly in the Champions League in the match against Real Madrid. There were players who shot doublets at the gate of the "creamy" ones, but so that 2 such clumsy goals as he did not happen.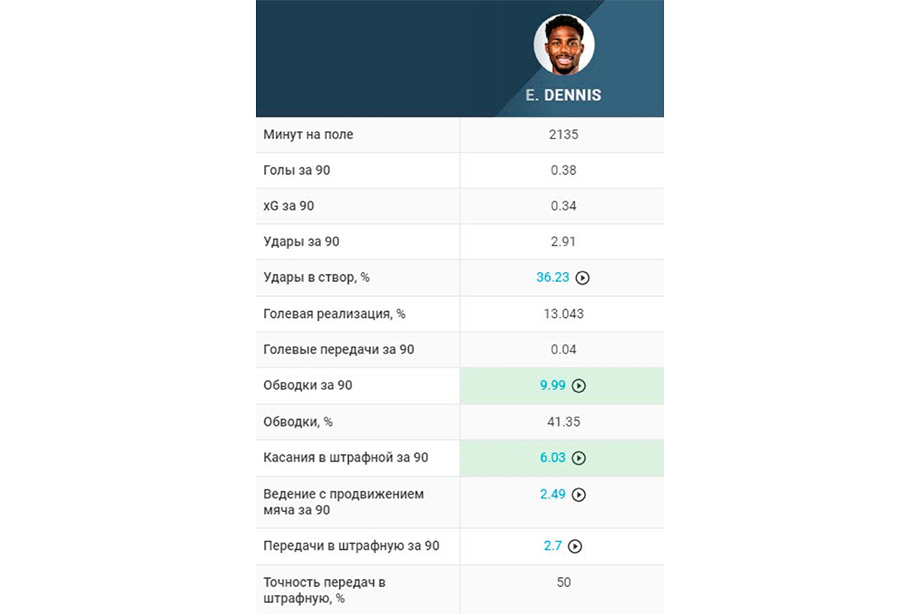 The player believes too much in his dribbling, and there is a reason for that – he actually does it from the spot and managed to surprise them, including the defenders of "Real" and "PSG".
Dennis' shot accuracy is not the highest, but he develops his attacking 0.34 xG, including his space openings, which bring him an average of 6 touches of the ball in the penalty area.
Economy of the transaction
Transfermarkt score: 13.5 million euros.
End of contract: 06/30/2021.
Our rating: 8 million euros.
Transfermarkt's assessment does not always indicate the real value of the player. This price is too high, due to the bright game in the Champions League against Real and the stormy press. The player is overrated.
Shows that the Belgians are likely to be ready to move, the fact that he came from Luhansk "Zorya" for 1.3 million euros.
True, the player himself will be interested only in the transition with a significant increase in salary to the Champions League club. Since his "Bruges" triumphantly won the championship and went directly to the group.
RPL clubs to which he can move and strengthen: Zenit, Lokomotiv, Krasnodar / CSKA.
Perspective: will continue to play at his Belgian level
Chidera Eyuke (Nigeria, 22 years old, "Heerenveen", Netherlands)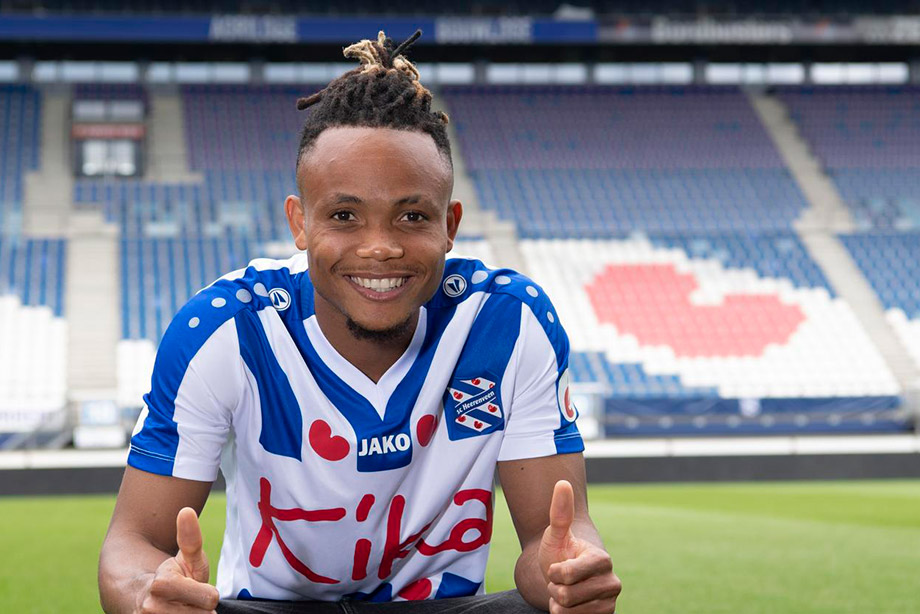 Chidera Eyuke
Photo: sc-heerenveen.nl
"Run, Chidera, run!" – the first children's coach told him, and since then this guy does not stop. At his young age, Chidera is in the top 20 of the entire European season in acceleration, ball advancement and dribbling.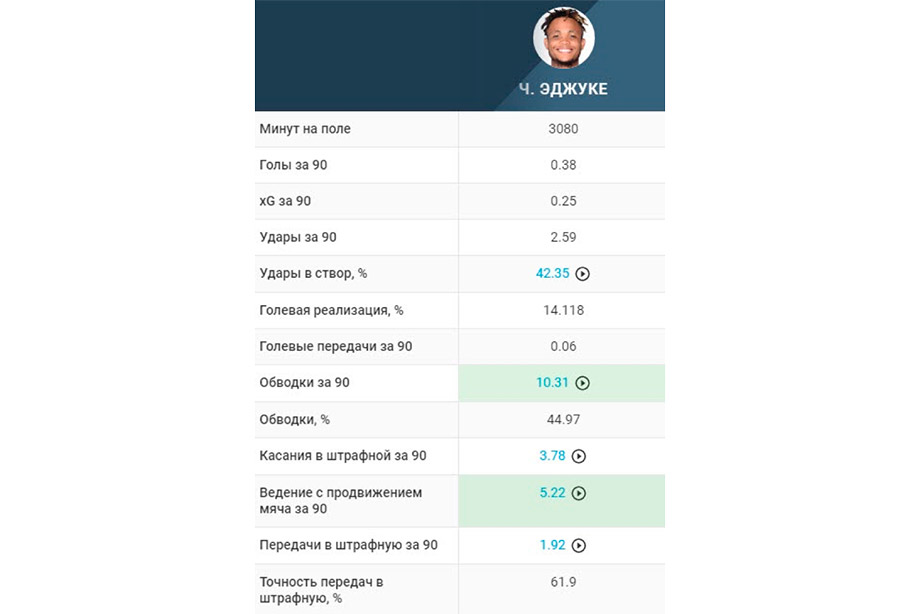 The accuracy of the blows should not bother us, all these blows are delivered at the gained cruising speed.
Soccer twin Eyuck can be recognized Musu from CSKA.
Run, Chidera, run and don't listen to anyone. In the RPL, you will hang tongues on the shoulders of all right-backs without exception (the player gravitates towards the left flank when receiving the ball).
Economy of the transaction
Transfermarkt score: 4 million euros
End of contract: 06/30/2023
Our rating: 6-8 million euros.
Heerenveen bought the player from the Norwegian Valerenga for 2 million euros. His club did not qualify for European competition and will, like all Dutchmen, sell leaders. In "Heerenveen" Chidera – lot number 1. And I rate this player above all on this shortlist, by a small margin from Shawn Weissman…
RPL clubs to which he can move and strengthen: Zenit, Lokomotiv, Krasnodar, CSKA, Spartak, Dynamo, Rubin.
Perspective: will prove himself at the level of European competitions and leave for Germany / Italy / Spain.
And finally. The life-giving limit will oblige the clubs to look closely at the young Russian attacking players. A serious fight will be waged for these guys. And we will be lucky if one of them justifies the investment.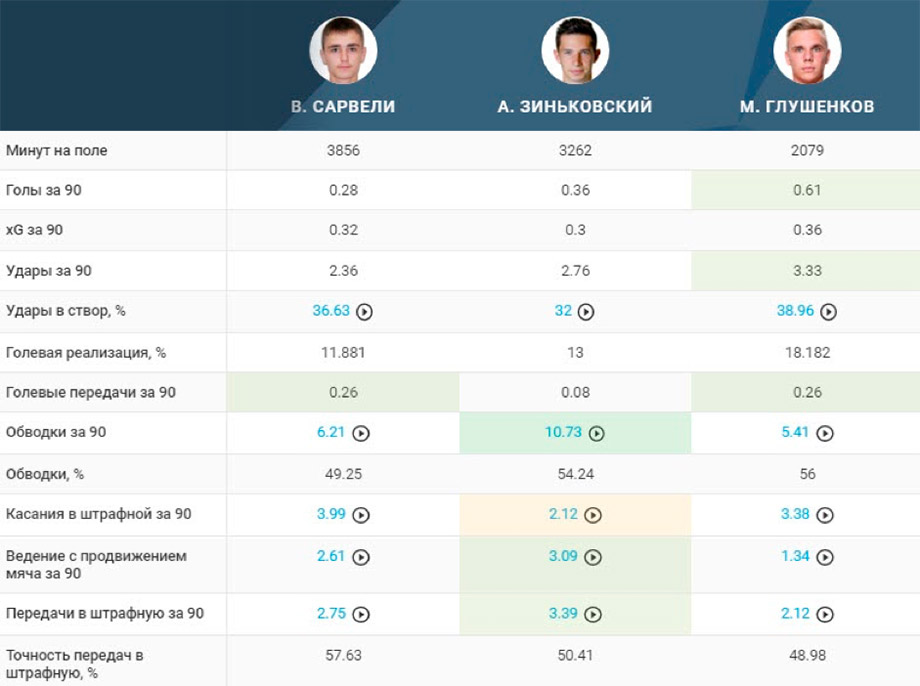 Such is the case in the market for fast forwards, whose current level of play will allow them to come and shine brightly in our league.