General Director of Lokomotiv Vasily Kiknadze is sad in communications
First, I would like to intercede a little for Kiknadze. It's just that Loko's boss has given so many reasons for criticism that you shouldn't blame him for any fictional things.
Take rapper L'One, for example. Two years ago, we did interview about Lokoand he was quite accurate in his wording. And now L'One is already twisting, askingto whom Kiknadze showed his middle finger:
"Who is this for? The whole South? The family sector? Partners? The football community? Or the whole history of our club? "
As far as I understand, the gesture was addressed to a few specific fans who cursed the general director. Why assume that this gesture was addressed to the family sector and club history? Apparently, only 3-4 guys. And this is also unacceptable on the part of Kiknadze. In developed countries, this leads to the resignation of the director. Well, in general, it looks just wild when a person strongly opposes obscene language, but allows himself obscene gestures.
Another story in which Kiknadze is blamed is the death of Kazanka footballer Innokenty Samokhvalova… A great tragedy. Here I will not assert anything, but I will express one assumption: if it were not for the scandalous parting with Semin, then some Kiknadze would not be so clearly blamed for the football player's death.
I do not want to describe other dubious accusations against Kiknadze. Colleagues even managed to suspect that the Loko management benefited from a leak in the media regarding Nikolic… This is definitely past, since the "Championship" is the first (in March) reported a Serb, and we know exactly where we got the information from.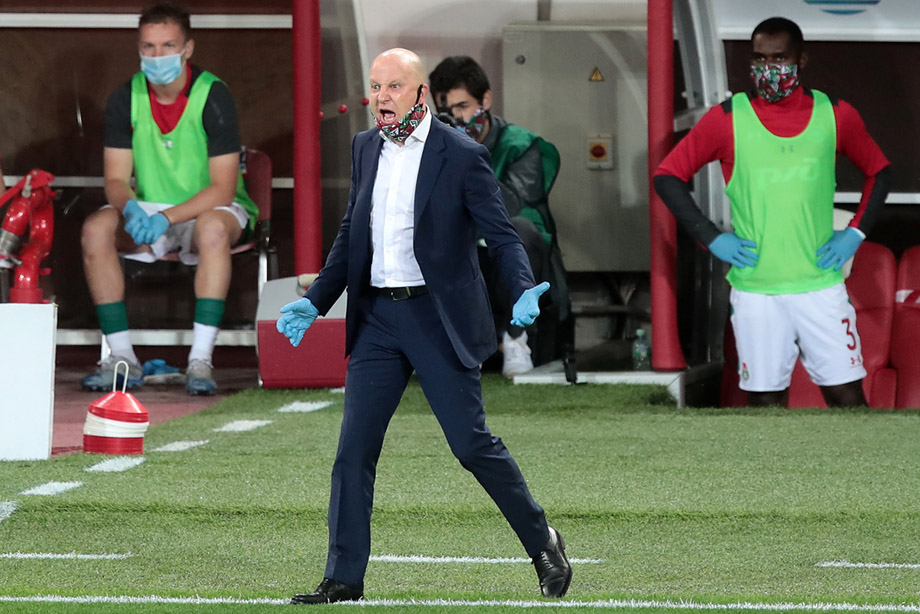 Marko Nikolic
Photo: Dmitry Golubovich, "Championship"
Here is another funnier. Kiknadze stated that he had found and eliminated the source from which the news of Nikolic's arrival had leaked. Honestly, my colleagues and I laughed at this. The CEO is either delusional or deliberately misleading when he says he found and eliminated the source. We know that it is not, and we don't care if someone doesn't believe.
In this article I will not thoroughly analyze the management work of Kiknadze, about which a lot has already been written and said. I will dwell on the media component. Here is a clear failure.
The middle finger gesture has become a debate. It is understandable. This is a big mistake of the CEO. Moreover, the situation became so loud that it overshadowed even the words he said that day. And these words, in my opinion, are an even bigger mistake.
"Fans" – I'll put it in quotes – who call themselves fans, allow themselves 20 minutes to chant something that has nothing to do with support, get up and leave at the 20th minute of a principled match of the season, in my opinion, these are … strange fans. And this is a separate question, who needs whom. They don't need me, or they – I don't need them, "- this is Kiknadze's literal statement. Here full video version without editing, if anyone has a feeling that the words are taken out of context.
You know, such a statement would look arrogant even for a former CEO. Herkusa after the championship. But he did not allow himself this (at least publicly). Kiknadze does not hesitate to say that the fans need him more. It looks like not just self-confidence, but something more. Especially against the backdrop of the scandal with the departure of Semin. Yes, Vasily Alexandrovich, what would the fans do without you?
Played with new colors May Day official appeal Kiknadze: "It is important for me to know the opinion of the fans – both associations and every person who cares about Lokomotiv.
The active fans outside the goal cannot be identified with all the fans of the club at once – this is a common mistake. On the other hand, this caste of fans is numerous, organized, and has been providing noise support for years, which Kiknadze calls significant. It's amazing when it's first said that every fan counts, and then one of the main groups is called "fans in quotes".
Lokomotiv fans are expressing their protest adequately. 0 negative in relation to the coach who took the place of Semin. Kiknadze's calls and Meshcheryakova to resignation – tough, but without swearing and insults. In turn, the club's management does not put a spoke in the wheels of the fans. The TV intersound drowning out fans was an initiative of the TV crew, which affected not only Loko's matches. The information that the club is making a list of objectionable fans at the expense of subscription scanners at the exit is not confirmed either. That is, Loko's reaction to criticism could be called healthy, before these words of Kiknadze.
Now Moscow fans are treated quite harshly, as we are see… And the fact that some of the fans leave peacefully in the 20th minute is a hundred percent legal way to express their protest. These fans have just left the main legend of the club with a scandal. It is surprising in such a situation to say that they are all fans in quotation marks. These fans have been with the team for a long time, spending their money and energy on support in home and away matches. People have every right to believe that protest is more important for them now than the support of football players. To believe that it is more important to support Semin, who remains part of the club, even after leaving him.
Kiknadze's phrase about who needs whom more seemed so outrageous that I asked people close to Loko's management how it was possible to say something like that and what could be behind such words. The result is as follows. Perhaps Kiknadze meant that in the current situation he was saving Loko from bankruptcy. That he got footballers with inflated salaries and the budget does not stand up.
I have neither the necessary education, nor documents to judge how much Kiknadze is saving Loko from bankruptcy. Maybe it is. Honestly I do not know. But I know for sure that Kiknadze formulates his thoughts unsuccessfully in public space. If he thinks the fans are aware that he saved the club from bankruptcy, then he is mistaken. After all, we have many RPL club bosses talk about "tighten the belt." And some of the newly appointed assure that it is with them that the club has a difficult financial situation, which they cope with as best they can. This no longer surprises anyone.
It is one thing to have a board meeting where everyone is really aware of the situation. Another is talking to fans. Yes, we heard that Loko's new boss is spending money wisely. And also the last boss of Loko, the one before last, and the one before last spoke about himself… And even if Kiknadze really saves the club, all the same his wording destroys relations with the fans.
Well, it was certainly possible to save the club without such disrespectful departure from Semin when the tournament is not over. I do not consider Semin a saint. I even see an overly idealized image of a coach. Yet a contract extension until the end of the season was required. If they parted with the coach in July, after the end of the championship, the image losses would not have been so massive.
Kiknadze says that Semin is overwhelmed by his interviews. This may be the case for the board of directors, but the opposite is true for the public. It seems that this speaks of the priorities of the current head of Loko. It is important how the management perceives, and not the ordinary fans.
In general, sometimes it's hard to understand what the Lokomotiv general director is saying. He comes to television and at the first question Vladimir Stognienko replies that he cannot agree with the wording "non-extension of the contract with Semin." Seriously? Need to waste time on this? At such a difficult time for the club? Maybe we will expand the discussion about friendly or test matches? Everyone says in such cases "non-extension" (even the official site of "Loko" in similar situations).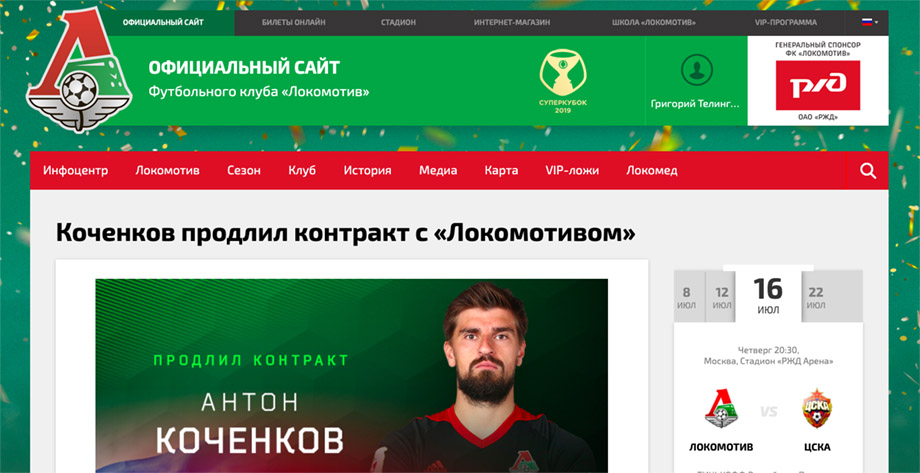 Another question of Stognienko: "Who suggested or recommended Nikolic to you? Maybe you saw him yourself? " In response, Kiknadze says that Nikolic is a bright and young man, has been training for a long time, has received good reviews and their philosophies coincide. That is, Kiknadze simply does not answer the question. Understandably, when club bosses refuse to talk about potential transfers, you can't disclose everything there. And when the coach has already arrived, it is strange to ignore a simple question. Apparently, Kiknadze had some reasons not to answer, but he did not name these reasons. And when a person is evasive even in such things, then suspicion appears by itself. But here again the question is: who is the interview aimed at? If to the board of directors, then, probably, the answer is appropriate. If the fans of "Loko" – hardly. There would be just maximum transparency.
Kiknadze accentuates attention to the fact that journalists are engaged in gossip, scandals and openly root for other clubs. Well, OK. Generalization is so constructive, isn't it? Let him continue trying to convince the fans that they have a common enemy – journalists. Of course, Kiknadze's criticism was caused by empathy with other teams, and not by the actions of Loko's management. Yes Yes. It was we who invented the scandal with Semin, and the arrival of Nikolic are rumors.
And one moment. Remember Khvichi's departure from Loko? Now I'm not saying that this is Kiknadze's mistake (although it really is his mistake). I mean that he was indignant at how the verbal agreement was violated. At the same time, in September 2019, Kiknadze was in the editorial office of the "Championship" and assumed obligations that were never fulfilled.
When we talk about Kiknadze's problems with communicating with fans (directly or through the media), the most amazing thing is where the current general director of Loko came from. A person with a powerful background in the media is a journalist, TV presenter, commentator and media manager. It would seem that someone who, but he should not have been in such a position …