Russian voice acting for Dota by Strategic Music: Soviet actors, wild lines ("Roshan was bombed!") And the Ukrainian Moon – How does it work? – Blogs
A strange story of Russian voice acting.
6 years ago, no one thought about Russian voice acting for characters in Dota. But in 2014, Dmitry Kuzmenko's private company Strategic Music launched its own project to translate, adapt and dub the game.
At first, the community supported the project. It seemed that high-quality voice acting in Russian would appear in the game very soon – a professional studio with 10 years of experience listened to the opinions of the players and invited the best actors. But the reality turned out to be different – the translation of some lines was simply inadequate, and the head of the studio stopped responding to criticism and spoiled relations with Valve, which, under no pretext, agreed to cooperate with SM.
SM has voiced games for over 10 years, but there were questions about Dota's voice acting – some were delighted with it, others could not imagine a "witch" in Dota
In fact, Strategic Music was a solid company. She started back in 2003 with a soundtrack for a mobile game, and in 10 years she has completed more than 500 projects, which have become increasingly large. The company made music for the game Behind Enemy Lines 2 and the voice acting for World of Tanks, and for War Thunder Strategic Music generally invited an orchestra with a choir and recorded more than 2 hours of symphonic music.
In February 2014, the company turned to Russian voice acting for Dota. It was not possible to come to an agreement with Valve outright, but the head of the company Dmitry Kuzmenko was still confident of success. Strategic Music already had a similar experience – she came up with lines and voiced 40 MOBA Tanat Online heroes for Mail.ru. Dmitry said that it is even easier to voice Dota, because you don't need to come up with lines and characters from scratch.
The first was the voice acting on Ricky. She was received coldly, but SM immediately listened to the comments and corrected mistakes with phrases and intonation. Kuzmenko said in an interview that voice acting cannot be done without the participation of the community:
"It's good that the works have been posted now. We will immediately resolve all issues with the community and then it will be easier. I think that creating voiceovers for Dota without community involvement means ruining the game.".
In April, more than 20 characters were voiced. Kuzmenko said that he likes Dota as a player, and the absence of a contract with Valve is even a plus, because it imposes a lot of restrictions and can distract from the process.
Popular people familiar with the community were also invited to voice the characters. Antimage voiced by Lesha Pchelkin, BH spoke in the voice of Snailkeek, and one of Ogre's heads voiced by Khovansky… Dmitry Kuzmenko was not worried about the popularity and promotion of voice acting, because in a month the studio's channel had more than 2 million views:
"How are we going to promote our voice acting? Strange as it sounds, we are not going to, because she is promoting herself. We show only the result of our work and nothing else – we do not advertise, we do not advertise ourselves. "
Some of the works were really decent. The boiler generally came out better than Valve:
And Pak was voiced by the actress Natalya Tarynicheva – her voice is spoken by Uma Thurman in Pulp Fiction and 6 characters from the Star Wars: The Clone Wars series at once. It turned out very cool, except for the strange phrases "My life is closed" and "Forces of light bombed Roshan."
Support Visage was the old Dota imboy: Lil strangled Secret, and Aui out-farm the mid
Another very successful hero was Lina. She was voiced by Ksenia Brzhezovskaya, who has tremendous experience as a voice actor. She worked in the studio LostFilm and it was her voice that Cameron from "House Doctor", all the female characters from "The Vampire Diaries" and dozens of cartoon characters spoke.
And even with the translation, there were almost no oddities. Is that this little countdown:
"A sharp rumble, heavy stamping, howling, mooing, screeching and roaring. And the ominous quiet murmur of boiling streams. The wind drives a cloud of smoke like a heavy horse. In the wake of him, inexorably, there was a glow of fire. "
But even she sounded stylishly in the voice of Brzezovskaya:
The community praised the high level of the actors and the quality of the recording, but there were more and more strange remarks: "Forces of light cut out Roshan", "Courier of the forces of darkness checked into hell", "Forces of darkness pulled out Roshan". A meme about the "witch" has appeared (originally – "shitty wizard", an Easter phrase that all Dota heroes have, but not used in the game). Ivan Stavissky, who voiced Lancer, noted that they don't say that:
"The perfidious witch … This is certainly not in Russian."
Strategic Music sought attention from Valve and Reddit – but Morph publicly smashed the voice acting
The following year, Strategic Music translated and voiced a few more characters, but no agreement was reached with Valve. Then Kuzmenko went for a trick: he released a video where he urged viewers to spam Valve with requests. Additionally, SM added voice acting to the Steam Workshop when only 34 heroes were ready.
Relations with the community also deteriorated – negative reviews became more and more, and SM did not have enough resources and / or the desire to listen to players' opinions and rewrite characters. Kuzmenko decided that the best solution would be to simply ban those who criticized the voice acting or translation.
There was something to criticize – for example, the Wraith King became the King of Devils. Honored Artist of the RSFSR Anatoly Puzyrev did his job perfectly, but Kuzmenko, who translated and adapted the lines, was not very good:
When it became clear that such voice acting was not approved by Strategic Music in the CIS, the company decided to show its product to an English-speaking audience – on Reddit. It turned out to be easy to get support, because the voices are really professional, and they do not understand mistakes, oddities or inaccuracies in translation into reddit.
It's just that Morph came in the commentary, who explained to the English-speaking audience that the translation was crude and had nothing to do with Dota.
The most versatile draft in Dota history – we won with it 7 years ago
"Okay, I'll try to explain what's wrong with this voiceover.
First, let's face it: the majority of the voices are actually very good and appropriate for the heroes.
But!
The studio manager seems to be really out of his mind. He has done a bunch of interviews and his answers are shocking. For example, he did most of the translations himself. No consultation with experienced players or professional players has been done. Let me remind you that he has been playing Dota for less than six months and only in his free time.
The head of the studio added many lines that were not originally there, but he finds them funny (this is debatable). "Rampage" is one of the most epic phrases in Dota, translated as "five in a row" or "five dead bodies in a row" or even with words like "awesome!" I know it's hard to find a suitable translation, but WC3 did it.
Everyone who didn't like the voice acting was banned on the studio's channel, on the facebook page and other services. So they give the fake impression that most people like the voice acting.
The creators of this voice acting were careless about the stories of the heroes, so some phrases are absolutely not suitable for the heroes.
Some voices are completely inappropriate.
The studio is trying to get Valve's attention with spam all over the place. They are even helped by a few fans. The studio had to contact Valve directly (contacts hidden or what?). This surprises me. The guys represent their country, or at least create the appearance of it, but do not understand the basic things.
I think that Valve shouldn't work with this studio because it can cause a lot of problems. But, from the messages here and there, you can see that Russian voice acting is absolutely essential. I think Valve should do the same thing as with other voiceovers – hire professionals. Again, we have a really good Russian WC3, so there is a great example of what can and should be achieved. "
SM's last attempts: very strange voice acting, threats of court, and Dmitry Kuzmenko even flew to the Valve office
When Valve's spam and Reddit posts did not produce the desired results, Strategic Music decided to attract attention in other ways. For example, Dmitry Kuzmenko threatened Prodote with court:
"As you know, our patriotic project" Russian voice acting Dota 2 "is often attacked by so-called haters … So, recently, from the site Prodota.ru not only hacker attacks are organized on the official website of our project" Russian voice acting Dota 2 ", but and a call to the murder (!!!) of the actors involved in our project is heard.
[…] With the help of our subscribers who are related to the internal affairs bodies of the Russian Federation, we have collected an evidence base on the illegal activities of the Prodota.ru website and its visitors, in particular Vlad Shvetsov, known under the nickname fortek
[…] We are a peaceful project, and we do not set ourselves the task of permanently terminating the activities of the Prodota.ru website in the Russian Federation … Therefore, I, Dmitry Kuzmenko, await a public apology from the PProdota.ru website and the deletion of the Fortek account and other users with similar attacks on our address. If my conditions are not met, I will transfer the collected evidence together with the personal data of the Fortek user that I have to the police. "
But the main thing is that the voice acting of the characters has become as catchy as possible. How do you like this Bloodseeker descending from the mountains:
Or Luna, who speaks Ukrainian:
Naturally, the voice acting of these characters did not go further than the announcement. When this did not help, Dmitry Kuzmenko personally flew to Seattle to the Valve office. But he took away only a photo of the lobby.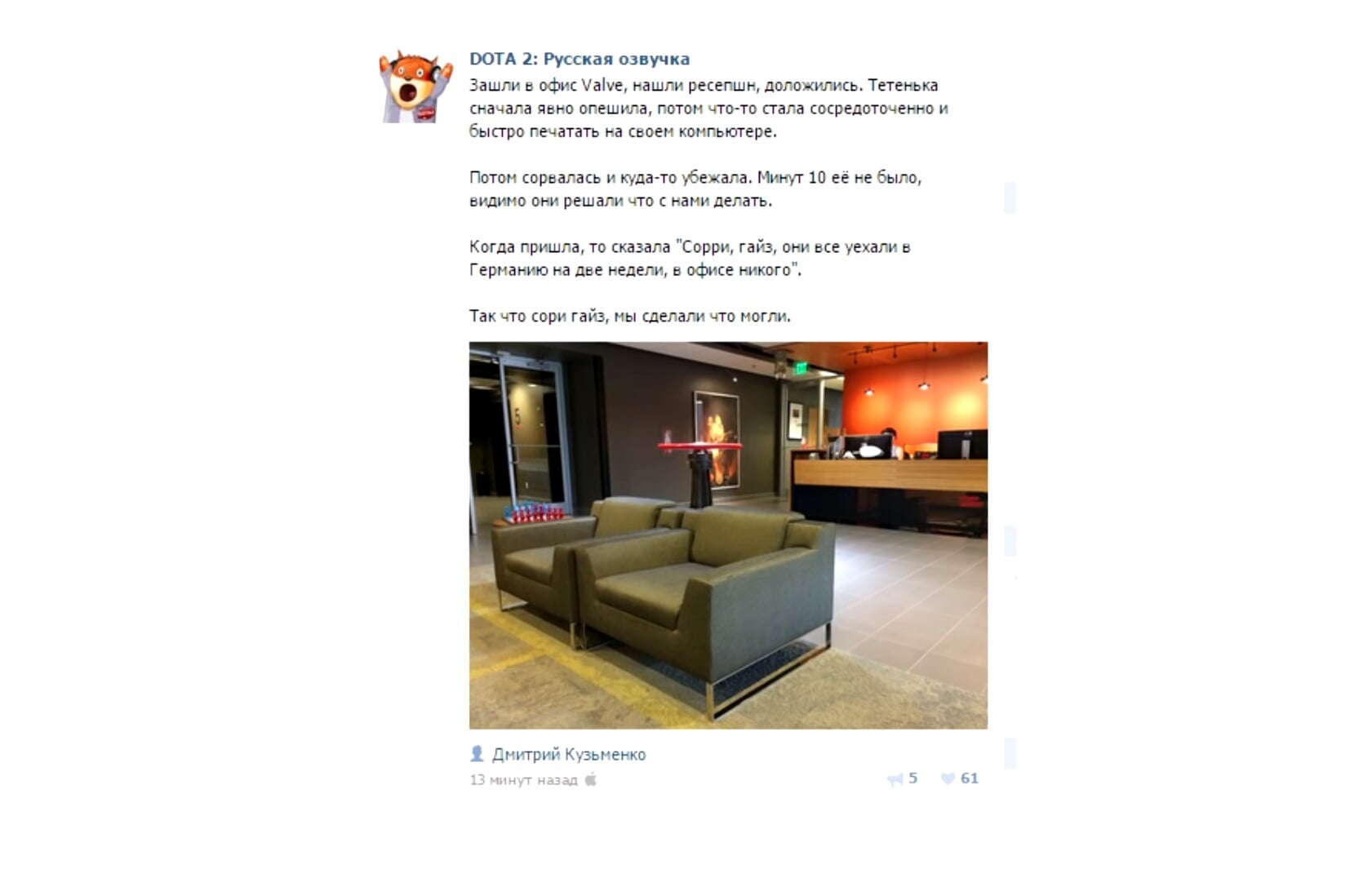 The only Russian-speaking Valve employee, Alaric, wrote a post about Kuzmenko's visit on his Vkontakte wall:
"This Kuzmenko of yours is a liar.
He does not have any contact in Valve and never has. Yes, he came to the office, sat a little in the lobby, then they told him that no one wanted to see him, he went to the elevator, hesitated a little at the wall with awards and magazines, then entered the elevator and never came back. Naturally, there was no appointment for him, he just decided to stop by. Valve will never work with this person.
Valve respects and values ​​the Russian-speaking community and will do a lot for it. Only Kuzmenko will not have the slightest relation to this. "
Kuzmenko tried to raise money for the voice acting of Fallout 4, developed games, and then disappeared
Just 2 months later, Valve released the first part of the official voice acting, and SM switched to Fallout 4 – the studio promised to make a dub for 3.2 million rubles. Dmitry Kuzmenko recorded a video calling for donations to this project and showed a small demo:
Later in the group there were options for adapting the translation. Doesn't it look like anything?
In January 2016, fundraising for the Russian voice acting for Fallout 4 ended on the crowdfunding platform. Out of 3.2 million rubles, only 450 thousand rubles were collected, which provoked a new scandal – Kuzmenko allegedly spent them all on vacation:
True, the representatives of the platform said that the project did not collect the required amount, the money was not transferred, which means it could not be spent for other purposes.
The Strategic Music group and website has not been updated since 2016, and Dmitry Kuzmenko co-founded the Tigrido company, which developed games. Then he said that voice acting is just an expensive hobby that they are doing with his wife Catherine, and not a business. But Tigrido was not a success either: the company's website is down, and the latest posts on social networks were published in February 2018. Temple of Spikes platformer is the only game released by the company for PC, available on Steam for 259 rubles.
Dmitry has ceased to actively conduct social networks, and nothing is known about his other projects.
They climbed for HYIP to us. Into esports
Return the Wild Card to TI! This mini-tournament was followed by everyone